Clifton Park, the home of thousands of lovely families nestled between an seemingly endless arrangement of strip mall parking lots protected by an everlasting traffic jam.  Good luck getting home at 4:30PM!
If you are in Clifton Park, you are in traffic, a parking lot, or a cul de sac.  That's all there is.
This t-shirt design shoes some of Clifton Park's traffic.  It says on it "Clifton Park N.Y. Sitting in Traffic is Awesome!"
Remember, you can customize your product by choose the color and style you like best.  Click on one item to see other variations available.
Available for Women: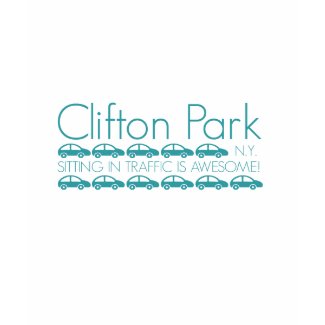 Clifton Park – Sitting in Traffic is Awesome! by withacapitaltee
and for men:
Clifton Park – Sitting in Traffic is Awesome! by withacapitaltee
this design is also available on other products like mugs, bags, keychains, and mousepads: